December 5th, 2012 by
DougVonDoom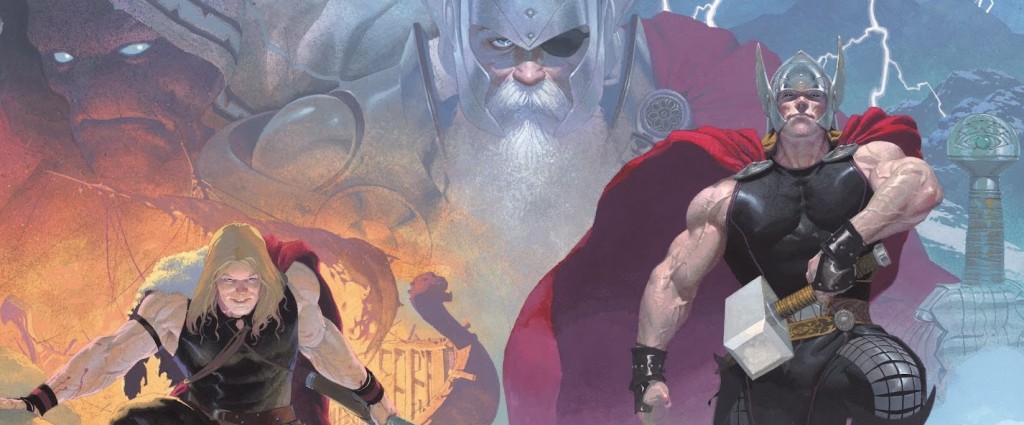 Marvel NOW! has finally kicked off, and I'm putting my best foot forward and checking my biases at the door. I'm jumping in head first for the opportunity of finding some diamonds in the Marvel rough. The truth is I've been dying to get back into my Marvel characters, and it is my hope that with the success of DC's New 52 that Marvel will step up to the plate and deliver some relaunches and creator shake-ups worthy of the competition. This is my High/Low of the Marvel NOW! Asgardian Tales… Don't forget your drinking horn… you're going to need it.

Writer:
Kathryn Immonen
Artist:
Valerio Schiti
Colorist:
Jordie Bellaire 
The extent of my Thor experience has been via the legend Walter Simonson. This is most likely the reason I prefer the fantasy elements of Thor versus the Super-hero ones and thus the reason I enjoyed Journey into Mystery so much. Issue #646 starts with Lady Sif is on a quest to learn the traditional methods of her ancestors strength as a means to not only protect Asgard but prevent future wars from marring her home realm.
Lady Sif's exploits find her crossing paths with a dragon imbued with sloth. It spends its days feasting upon dead soliders. The sloth dragon points Lady Sif in the direction of the Teacher. Lady Sif prepares the incantation and summons the Teacher, whom upon arrival claims Lady Sif to be "unworthy!" Lady Sif and the Teacher have a bout and then Lady Sif leaves with what she had came for. But what exactly was it she was coming for?
I simply love the fantasy elements of this book and like the fact that we are given a strong female character. It's nice to have another pool to go to that fills my need for fantasy comics outside of Dark Horse's Conan series. Journey into Mystery is the first Marvel NOW! title to be officially added to the pull-list.
Writer:
Jason Aaron
Artist:
Esad Ribic
Colorist:
Dean White
Thor: God of Thunder #1 plays out in three parts. The book starts out strong and promising in the past, takes a left turn at Albuquerque in the present and then finishes real strong in the future. Despite fantastic art, a cool premise and a rather interesting story-telling technique, this issue makes me feel robbed. It leaves me slightly confused. Is this the beginning? or the end of the series?
I have no problem with the beginning of the story. Young Thor fends off frost giants, sleeps with women, drinks with men and finds a dead native American god. Promising start. Then we are brought to the present as we follow Thor heading the call of an alien race on the other side of the universe. (What?!) Yes that's what I said. Half way across the universe we find Thor landing on alien planet as its suffering denizens are sending unanswered prayers to the heavens. Thor takes it upon himself to answer these prayers, which makes me question how praying works in the Marvel Universe. Why is it that Thor can just hear and/or answer prayers from other planets? Does this happen frequently? (whatever)
After helping the aliens Thor questions where their own gods are and he is appalled to hear that the native alien gods are no where to be found. Finding this absurd, Thor seeks out the alien pantheon. Some how Thor just knows where to find it. He flies off into space and finds whats left of an alien pantheon. Seriously? He just flys off and finds it?! (whatever) Searching all of the pantheon, Thor finds a set of chained doors, proceeds to venture past the them and finds the alien gods brutally butchered to death. Thor knows that it is the doing of Gorr the God Butcher and Gorr has left behind a guard dog which proceeds to attack Thor.
Moving into the third act of the story, we get a Thor sitting upon the throne of Asgard as he talks to himself, as there is no one left in Asgard but himself. After an amusing dialogue with an empty throne room, Thor claims that he will fight to the end as he sets out to battle hundres of Gorr the God Butcher's 'guard dogs'.
Ultimately this issue reads like a one-shot. It leaves me feeling like there isn't another issue of continued story. It leaves me not compelled to pick up issue #2. While I thoroughly enjoy the first and the third acts, the second act is sooo way off in left field that I feel it is out of character for Thor. Why does Thor care about alien gods and prayers? Why does Gorr the God Butcher give a fuck about slaughtering alien gods? If Gorr was on a god slaughtering hunt that included every planet in the cosmos, he be infinitesimally busy. I'm not digging it.
Until Next Time… So far I've digested quite a few Marvel NOW! books (more reviews to follow) and I'm not all that happy thus far. It seems to me, as far as I understand it, not much of Marvel NOW! is directed toward new readership. This perplexes me seeing as Marvel is the publisher that created the dot one, a new issue numbering system that is supposed to signify to new readers that the issue is new reader friendly. If they were touting a new re-lauch/creator mix-up, why isn't it all new reader friendly? I'm finding it hard to hit the ground running with most of the Marvel NOW! titles without having been already reading the title or at the very least some related title. Example: Journey into Mystery was fairly reader friendly, but I have no context for the destruction of Asgard or why the library is in flames at the beginning of the story. I get a single line about Surtur the fire demon destroying the place. Luckily this doesn't prevent me from enjoying the rest of the story, but why leave me wondering about something that already happened if this is a clean jumping on point for new readership? Just the opposite we have Thor God of Thunder which is a solid jumping on point, It's just unfortunate that the story itself isn't… reader… friendly.