January 9th, 2013 by
Adam Parduhn
I was a casual fan of Kevin Smith in High School, but I think it was at the Chicago Comic-con (Wizard World Chicago) in 2001 when Scott and I sat through like 3 panels to get good seats (Scott has the tape… yeah tape… of that show somewhere) that I came to value his appreciation for the comics medium and its fans.  Kevin Smith has worn many hats throughout his 20 years since Clerks.  Writer, Director, Actor, Speaker, Twitter-er, and most recently Podcaster. One of the Podcasts that is most endearing is Fatman on Batman.
Fatman on Batman is a series on Kevin's Smodco network in which he reviews, and interviews the people and stories that make Batman the amazing and memorable character he is.  Kevin's guests have so far been predominately Animated Series heavy. Both women who helped bring to life one of the biggest additions to the Batman mythos, Harley Quin: Arleen Sorkin and Tara Strong.  The definitive Joker voice and comic scholar: Mark Hamill.  The Julliard trained, Kevin Conroy, whose take on the character is so perfect that I hear his voice in my head whenever I read a Batman comic. Batman: The Brave and the Bold's Diedrich Bader and Warner Brothers' Animation godfather, Bruce Timm.  Smith also talks to current Batman scribe and former Buzz Lightyear, Scott Snyder, and the live action Batman himself: Adam West.
"That performance made me comfortable with my eventual own death.  That's how good of an actor you are."

-Kevin Smith
#11. Kevin Conroy: Batman Himself
My favorite guest so far has to be Paul Dini.  I was born in 1980 so Paul Dini pretty much wrote every cartoon I watched growing up: Fat Albert, He-Man, GI Joe, Transformers, and Batman The Animated Series.  In retrospect, I appreciate the fact that the stories he told never talked down to me as a kid which tends to be the case when I watch something with my nieces and nephews.
I've only seen/heard Paul Dini in documentaries so Fatman on Batman's inaugural episode was pretty entertaining.  It was strange and comforting hearing him cuss and speak plainly about his beginnings in the cartoon industry and also about love of the great Batman mythology.  I was glad to hear him come back for a few episodes over the holidays to do some commentary on some of his old Batman work.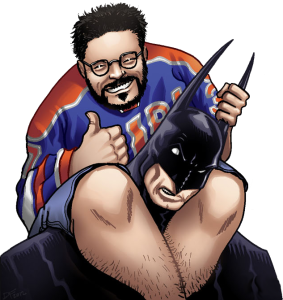 Throughout all of this Kevin keeps the show centered and focused on the one thing that binds all these talented creators and performers as well as the fans listening: a passion for the ongoing tales of the modern-day Odysseus.
Check it out here:  http://smodcast.com/channels/fatman-on-batman/
Follow on twitter: